Nigerian Citizen Cross-check Who is ruling Nigeria Buhari Or Jubril?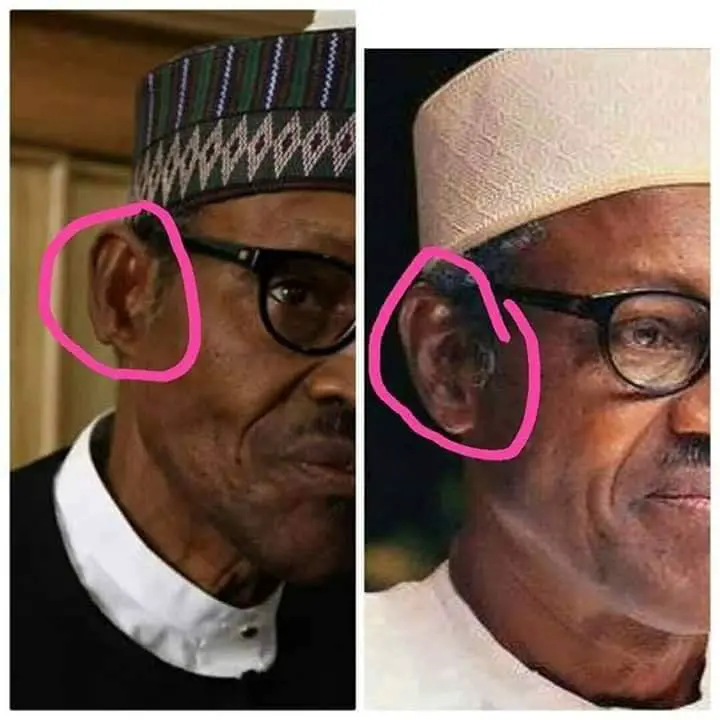 A rumour has been going around for sometime now that the person ruling this country is not Buhari but Jibril.
Although the government has tried to explain to every one that the person ruling the country is Buhari but the rumour is still going around
Let's see some of the reasons that has proven that the person ruling this country could be Jibril
One
Buhari was about 75 years when he assumed the presidency in 2015. He looked very much his age, and appeared noticeably frail shrivelled due to the ravaging ailments that eventually saw to his demise. On the other hand, Jibril is about 50 years old and it shows in his gait, his vibrancy, and the smoother tone of his face and skin. There's also the slight difference earlobes between the two men.
As you can see in the image the ears are different
Two
Buhari had noticeably receding hairline on the front crown and the rest of what was left of his hair was brittle and then towards the tail end of his life, the hair became very scanty and snow white. All these can be verified from his photographs taken during the electioneering campaigns, at the time he was sworn and during his long illness. This contrasts sharply with Mr Jibril, who appears to have fuller mane of hair, much darker hairlines, and now permanently spots a cap that he has refused to remove despite repeatedly being dared to do so.
Three
The late Buhari was of Fulani full blood and he spoke fluent Fulfude – the native tongue of the Fulanis. He also spoke Hausa. Now, this Jibril does not speak Fulfude but speaks Hausa only, which is why he strains to speak Hausa as a diversion each time he is challenged to speak Fulfude. One then wonders why Jibril, claiming to be the real Buhari in Poland, did not speak some Fulfude or even go as far as removing his cap.
Four
For sometime you might notice a distance between Jibril and Buhari's family members, especially Buhari's wife, Aisha and son Yusuf. Whereas, Aisha appears to be studiedly aloof from Jibril, Yusuf was photographed awkwardly shaking Jibril's hand after he returned from his long stay at a German hospital, where he had been admitted and treated for injuries stemming from his bike accident.
Five
Buhari was a very tall person, noticeably taller than other equally tall public officials such Senate President Saraki, who now appears taller than the man claiming to be Buhari. How come? It was Lai Mohammed, the Minister of Information who tried to explain this by claiming that Buhari used to wear high-heeled shoes, which he now no longer wears on the advice of his doctor, thus making him appear shorter. Is that even an explanation?
Six
Queen Elizabeth send condolence message over Buhari's death


We all know that Buhari love travelling, infact travelling is his second name but do you wondered why he stopped travelling often ever since he claimed that he has recovered.
"So, there you have it – Jibril from Sudan is not a biological clone of Buhari but a completely different fellow impersonating the real Buhari on the dummy that he's a look alike who underwent some cosmetic fixes that appear to have convinced many that he's Buhari.
Think about it
Why would queen Elizabeth send a condolence message to Nigerians over Buhari's death if he was not dead
Why has president Buhari not come out to perform a DNA test just to prove that he is really the one ruling us
TRENDING SONGS
Share this post with your friends on
0 Responses